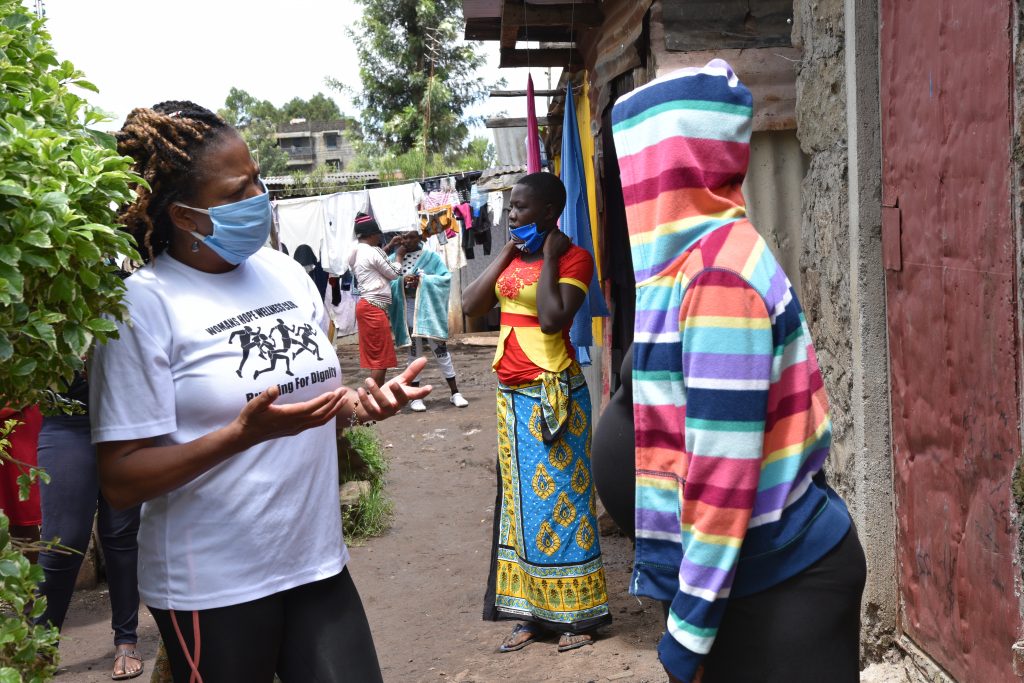 In this photo, Woman's Hope Director, Consolata Waithaka shares a moment with *Irene
I first met this girl (let's call her Irene) in October last year. At Woman's Hope Kenya we hold regular mentorship meetings with teenage girls from resource poor areas. To protect her identity I won't say where she lives. FYI, it is an estate that would easily qualify as a slum in technical terms.
So, it's October 2019. Among girls who showed up for our program that month is Irene. She is in a pensive mood. I don't make much out of it. Teenagers, by their very nature, can be bundles of emotions. Later Irene and I bump into each other. We get talking. She tells me that she wants to commit suicide. I get to find out the root of her misery: she was pregnant and her mother was angry at her.
"You don't need to kill yourself: death won't solve any of the problems you are going through," I told her.
Knowing that she was depressed and vulnerable I asked Irene to not make any rush decisions. I made a point of catching up with her every few days. I got to know her mother as well and began talking with her as well. A mother's anger towards a pregnant teenager is a knee jack reaction. So, I commiserated with her.
Anyway, long story short, Irene kept the pregnancy and passed on the idea to take her own life. Her mother's anger dissipated – a little. When Irene's father knew about the pregnancy, together with her mother, they unanimously gave her an ultimatum: that she leaves home (to whomever is responsible for the pregnancy) in three months. Irene still has a month or so left on the three months.
The picture above were taken three weeks ago on May 1. I had visited Irene's estate to distribute Dignity Packs to poor women and girls. Let me digress a little here. A dignity pack contains sanitary towels, a block of bar soap, jelly and a panty.
Yes, in 2020, we still have women who cannot afford these basic necessities. Between food and sanitary towels a mother would rather feed the children first. Girls who do not have these basic amenities – especially in informal settlements – become easy targets for randy men out for cheap flings.
Back to Irene. (Sigh).
Irene turned 17 last February. When she got pregnant she had accompanied a female friend to visit her 'boyfriend'. Her friend's boyfriend invited his friend – who coupled with Irene while he got busy with Irene's friend. Irene fell pregnant the second time the two girls went back to visit their 'boyfriends'. Her naiveté is forgivable because, one, she is legally a minor. And two, at her age, in her condition, it is easy to fall for a man who lavishes her with praise for her beauty and buys her sweet nothings. The man, Irene told me, would buy her beauty accessories like necklaces. Occasionally he bought her clothes too. And let her have some pocket change.
Irene dropped out of class seven….yes, class seven…in 2019 after falling pregnant. It is now two days since I got news that Irene gave birth.
I asked her, "So, what next?"
She answered: "I want to continue with coursework in knitting and start my life over with my baby."
Girls like Irene are the reason Woman's Hope Kenya exists. And now, the work begins: to try help Irene transition into motherhood and adulthood (in a year) with some semblance of a normal life. We will welcome great ideas. And of course any help for Irene and girls like her who we mentor to actualise their dreams in life.
Article courtesy of Gardy Chacha, Journalist – Standard Newspaper Columnist – The Nairobian